At YogaToday, we are so proud to have longtime members who practice with us from all over the world. Erykah St. Louis is one of these yogis: she is originally from Montreal and has been residing in the DC area for the past 11 years. She first started practicing yoga when she moved from Ottowa to Toronto in 2007 and found herself missing her support system and sense of community, and has stuck with that practice ever since. Let's sit down with Erykah to find out more!
YogaToday: How did you find your yoga practice?
Erykah St. Louis: When I moved to Toronto it was my first time really being on my own and I felt that I needed something more than going to church every week, which I love, but I needed something else, too. I would see different yoga studios and promotions and stuff for yoga but I didn't feel confident or comfortable stepping into the studio. I felt that I needed some experience and I didn't know anyone at the time in my circle of friends who did yoga. So I went online and when I googled I came across YogaToday and that was honestly my introduction to yoga. And, it was like the whole world opened up to me.
YT: What was YogaToday like when you joined?
Erykah: So when I joined YogaToday back in 2007, the site was a space where you could download videos, you guys were offering an hour a day of yoga and it was like the coolest thing. What was perfect about it for me was that the instructors were so professional. It was a well-produced program. With my background being in design and communications, I really valued the whole presentation of YogaToday. The studio production and the way that the instructors designed their classes really hooked me.
YT: Which teachers did you begin practicing with?
Erykah: I remember developing a very deep and sort of virtual connection to Adi Amar. Adi had a lot of those introductory classes that I took and you know, that was really my foundation. So she was really like my first yoga teacher and just the way that the instructors on yoga today instruct, it felt very personal. It felt like they really wanted me to be in the room with them or to be in Jackson Hole, Wyoming with them. Even though it was an online space, it felt so real. YogaToday gave me the confidence honestly to step into the studio space years later. I took the lessons, tips and insights from YogaToday instructors and I applied them to studio classes. The experience of transitioning to the studio made me realize that just because something is in person doesn't make it superior.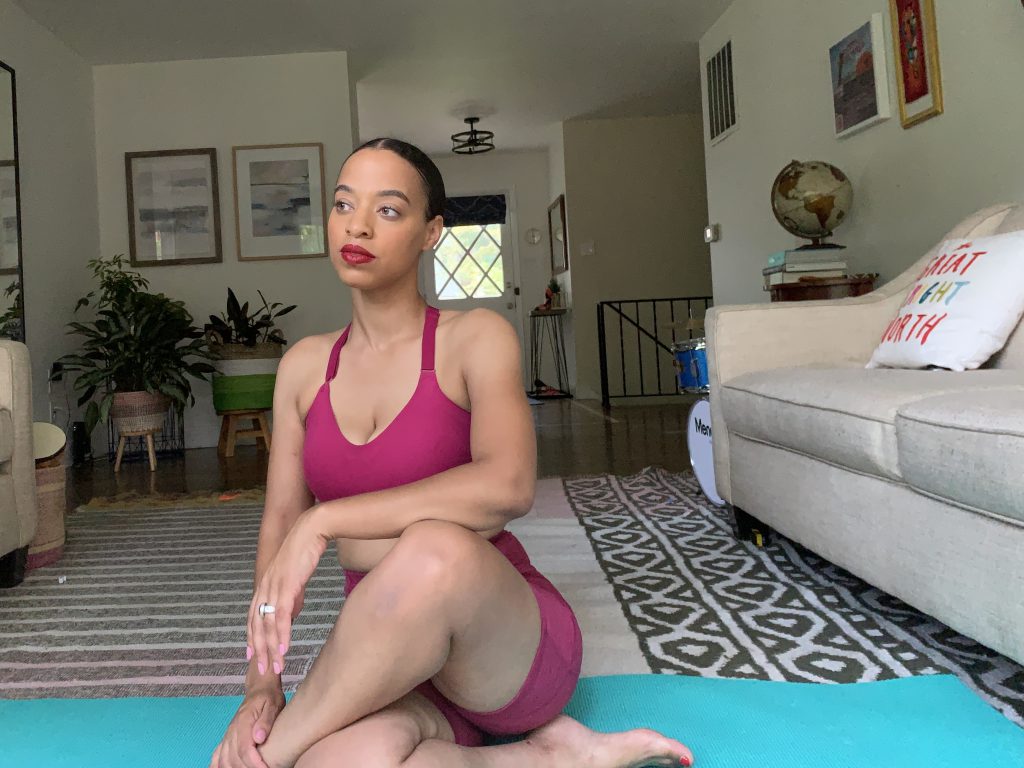 YT: So what does your relationship with yoga look like now? How has it transformed your world today?
Erykah: I practice on my own, still kind of a loner Yogi. I'm also building my understanding more of the spiritual side of yoga, drawing power from that and applying it to my day-to-day. Whether you're checking emails or just walking or driving or whatever, it's seeing yoga truly as a lifestyle and not just as an athletic practice or a fitness thing, but really a way of being- that's where I'm at now. I've experienced a lot of trauma. Living in the U. S. has honestly been like being on a high-speed train, and Yoga has really helped me. Also, I want to pass this on to my son. I have a four-year-old son and I believe in passing things on by the way that you live. I'm really at that stage now where I'm designing my life intentionally and mindfully, and so reintroducing yoga just feels like a natural thing. It's almost like it's been calling me for a while, but now it's the most appropriate time because of all the trauma that I've been through.
YT: Do you do yoga with your son? Do you bring him to the mat with you?
Erykah: Yes, there's a room in my house I call the meditation room. We have various names for it, but we use it as a meditation, capoeira, exercise room, whatever. There really isn't much in there except for two mats, some books and magazines, dumbells, basic yoga gear, and a mirror. And so we get in there and we do downward dog and warrior poses and stuff like that, a few sun salutations.
YT: Tell us more about the importance of inclusivity in the yoga space.
Erykah: My personal mission is to get more black girls in yoga, into feeling like this is not a white or black thing, it's not a race thing at all. It's a lifestyle thing and it's accessible to all of us. And if you need somebody like me to show up and show that it's accessible by example, then I will do that. After posting about yoga a few times, some friends of mine have been like 'I really want to get into yoga, but I try and just can't." So there's a lot of potential for education within the black community that needs to happen and I think that I have a responsibility to do that. I think the lack of representation comes from people having a lot of bad experiences. Like, it's common that many black girls have gone to yoga studios and not felt welcome. So that's their impression. That's part of the damaging effects of racism, what it does to the victim is make them have that race lens on constantly, and it's not useful. It's not always useful to have that. But what the trauma has done, it forces you to judge people's motives and intentions because you're like 'you could have like a different mask on right now. I don't know. I want to believe you, but I don't know.'
YT: What else would you like to tell those who aren't feeling represented or included in the yoga community, or who have a shaky relationship to the practice?
Erykah: I just want to say, for people who have either left yoga for those reasons or have a shaky relationship with yoga or a wonky relationship, like, push that to the side. If you fell in love with the practice, with the lifestyle, it's always going to be there for you to access and you know, the least judging you are of your relationship with it, the better the relationship will be. You know, if you return to the mat once a month or every day or you know, a few times per year, don't judge yourself harshly for that. The power of yoga is more than the mobility, the movement, the flexibility. It is really a way of living that helps us to go through this modern-day busy world. That's what I want to add.